Structural Geology @ KIT Applied Geosciences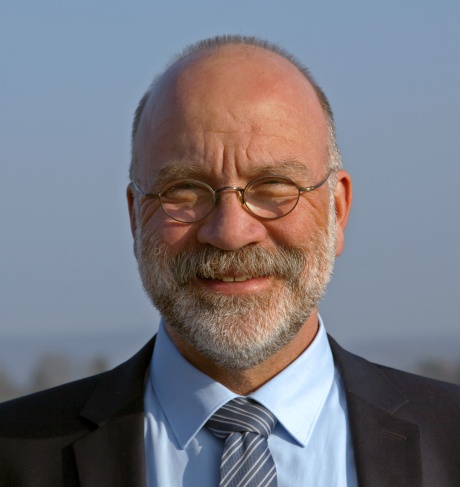 The growing world population and global welfare, energy transition, mobility transition and climate change require new concepts of sustainable energy- and raw material supply as well as resilient supply chains. The chair of Structural Geology headed by Christoph Hilgers improves models on mechanical and chemical rock properties as well as rock magnetics to better predict heterogeneities of reservoirs and storage sites in the subsurface. We analyze processes, techno-economical utilization concepts and value chains for energy and mineral resources to identify strategic alternatives. Our innovations contribute to the efficient exploration and use of renewable energy, hydrocarbons, raw materials and subsurface storage.
We are hiring!
Research assistant (75%) searched for DFG-funded project "Emplacement conditions of pyroclastic deposits inferred from magnetic properties of the Eger maar-diatrem and Eifel volcanoes".
Application deadline: 11.04.2023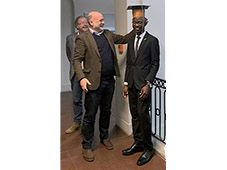 Ola verteidigt erfolgreich seine Diss
Olajide Jonathan Adamolekun i.e. Ola successfully defended his research on "Reservoir quality controls and reservoir modelling of continental to transitional shallow marine sedimentary basins of Southern Nigeria" on 22.12.2022. It covered reservoir quality assessment such as petrophysics and diagenesis on the core scale, as well as modeling with Petrel on the reservoir scale. Congratulations, Ola! And many thanks to the second reviewers M. Peter Süss and Nevena Andric Tomasevic, the examination committee and DAAD for funding him.
LinkedIn Post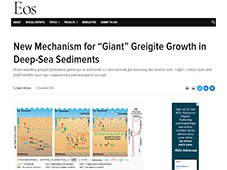 AGU-EOS Editorin Highlihght von Agnes
Agnes, Associate Editor of AGU's prestigious Journal of Geophysical Research: Solid Earth, published an editor highlight on New Mechanism for "Giant" Greigite Growth in Deep-Sea Sediments. Understanding greigite formation pathways in sediments is a prerequisite for assessing the marine iron-sulfur-carbon cycle and yield reliable near-syn-sedimentary paleomagnetic records.
Link zu Agnes Editorial Highlight 12/22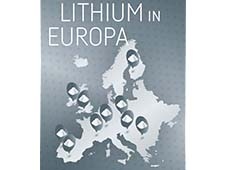 ThinkTank Buch Lithium fertig
Our new book in the series ThinkTank Industrial Resources Strategies on "Lithium in Europe" (in German) has been published 12/22. Many thanks Katharina Steiger for organizing, writing and managing the co-authors. Please download the book following the link below and find the .pdf und Volltext on the upper right of that site.
Link ThinkTank irs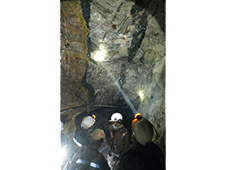 Copper vein in South Morocco
Veins in Precambrian carbonate rocks brought us to South Morocco, where we jointly visited a subsurface mine with our colleagues from Ibn Zhor University Agadir in 12/22. About 300 m below ground veins containing copper are mined, concentrated and shipped to ... China. (as almost any mined deposit anywhere). Question: Where to find the displaced veins, and how do the vein generations fit into the tectonic regimes.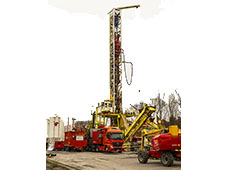 Besuch Geothermiebohrung Graben-Neudorf
Only 20 km NNE of Karlsruhe the first of two wells has been successfully drilled to more than 3400 m depth in 11/22. We thank Deutsche ErdWärme GmbH for the kind invitation and wish them ongoing success.
Info Geothermie Graben-Neudorf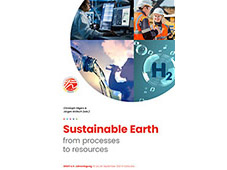 Sustainable Earth publiziert
The special volume of our conference Sustainable Earth - from Processes to Resources was published in Sept 2022. The hybrid annual DGGV conference with 667 participants form 36 countries was hosted at KIT from Sept. 19.-24.2021. The organization committee Jochen Kolb, Agnes Kontny, Frank Schilling, Armin Zeh and Chris (chairman) thank DGGV e.V. for funding this volume (in German), which can be downloaded here.
Download Booklet Sustainable Earth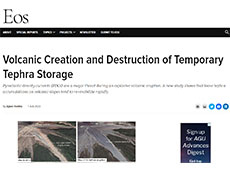 AGU-EOS editor highlihght by Agnes
Agnes, Associate Editor of AGU's prestigious Journal of Geophysical Research: Solid Earth, published an editor highlight on Volcanic Creation and Destruction of Temporary Tephra Storage. Pyroclastic density currents (PDCs) are a major threat during an explosive volcanic eruption. A new study shows that loose tephra accumulations on volcanic slopes tend to re-mobilize rapidly.
Link zu Agnes Editorial Highlight 7/22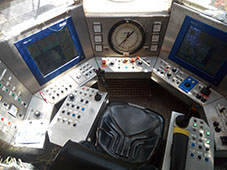 Interviews zu Fracking
The potential lack of natural gas supply (27%) in Germany would pose some significant challenges on economy and society in the coming years - it is an industrial raw material as and energy supply. Planned LNG volumes and rates (13 bcm/a) will not match recent demand. Imported LNG fracking gas, coming with a high CO2 footprint, could be supplemented by the utilization of Germany's own fracking gas of appr. 1,36 tcm with a low CO2 footprint, and assisted by CO2 capture, storage and utilization. In interviews with Frankfurter Allgemeine Sonntagszeitung, Deutsche Welle, Deutschlandfunk, Weltwoche and others Chris states that it is an established technology applied a million times. Whether or not Germany considers its own natural resources to be an additional backup strategy in the current energy crisis is a socio-political decision.
A summary of data was published as §Energieträger und Rohstoff Erdgas: Verfügbarkeit, Verwendung und Geopolitik" here.
Data collection Energy & Raw Material Natural Gas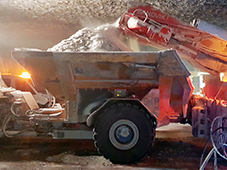 Seilfahrtsschacht Salzwerke Heilbronn
KIT Applied Geosciences is surrounded by active mining operation, covering geothermal with lithium extraction, oil, gas storage, fluorite and salt mining. Recently, DGGV representatives and Chris visited Salzwerke Heilbronn on June 30th 2022 to take some movies a few hundred meters underground. Salt hard rock mining started 1858 in Heilbronn and can continue some 100 years or more.
DGGV Imagefilm 2022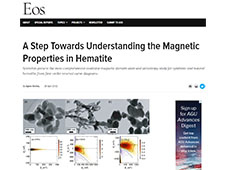 AGU-EOS Editorin Highlight von Agnes
Agnes, Associate Editor of AGU's prestigious Journal of Geophysical Research: Solid Earth, published an editor highlight on A Step Towards Understanding the Magnetic Properties in Hematite. Scientists present the most comprehensive available magnetic domain state and anisotropy study for synthetic and natural hematite from first-order reversal curve diagrams.
Link zu Agnes Editorial Highliight 4/22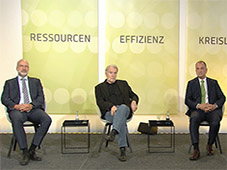 Resilient RawMaterials supply
Our research on industrial resources strategies and resilient supply chains, followed by a podium discussion, are presented at the annual congress on resources efficiency Baden-Württemberg. The movie can be viewed here. This brings together about 2000 participants from industry, politics, associations and science. The booklet can be downloaded here.
The State Baden-Württemberg within the Federal Republic of Germany is one of the largest industrial hubs in Europe.
RessourcenEffizienz-Kongress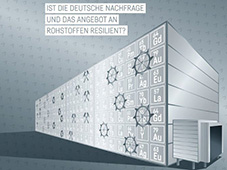 Our ThinkTank book online!
Our booklet " Is the German demand and supply of raw materials resilient? Mining - smelting recycling" (in German) by Christoph Hilgers, Jochen Kolb and Ivy Becker is online sind 12/2020. We outline raw material strategies of different countries and show that industrial countries require access to raw materials from mining, smelting and refining for manufacturing and to retain critical raw materials for the circular economy. Increasing global population, growing prosperity, shorter product life cycles, digitalization, energy- and mobility transition will cause a significant increase and competition on primary and secondary raw materials.
to ThinkTank Website