Our Oman trip for our MSc students is planned for Sat 29/9 until Wedn 10/10 2018. The provisional agenda and other details are given below. Please also refer to the German Federal Foreign Office / Auswärtiges Amt Reise- und Sicherheitshinweise

for further information.
Entry and Transport
Arrival latest 29/9, Muscat Airport, Sultanate of Oman, arrival and departure arranged and costs covered independently by field trip members.
Please note that you need to purchase an e-visa before your departure from Germany. A purchase upon arrvial in Muscat is said t obe possible only in emergency cases. Please refer to the German Federal Foreign Office for updated news

.
Transport is with 4WDs with one local driver. A supply pick up will carry food, water and camping facilities. Eventually ago field trip member may drive a 4WD.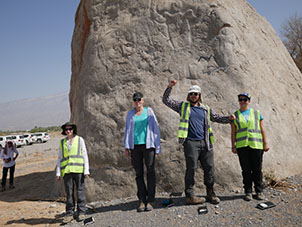 Accommodation
First and last night overnight in hotel, Seeb, other nights in tents outdoor. Tents and other facilities will be provided, please bring your sleeping back since it may get cold at night in the mountains and in the desert. Consider that generally we will be away from civilization and have no electricity on the way.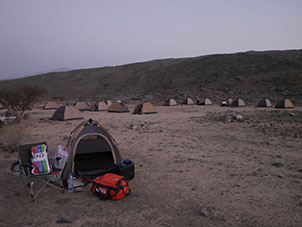 Objective
Together we want to explore the local geology from the earth's Moho, metamorphic rocks to the sedimentary cover. We will study in-situ depositions and the corresponding later rocks. Oman is known as the geologists paradise due to its wealth of geological processes and the lack of vegetation.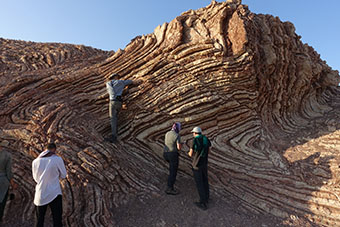 Program
our initially planned program is as follows, but will lilkely be rescheduled during the trip due to some flat tyres and other unpredictable incidents:
D1 Sun: 30/9 departure with 4WDs, great mosque, towards Sohar
D1 Sun: Semail ophiolithe, Pillow-lava and ore deposits along MOR, Zuha Gossan
D1 Sun: Sheeted dykes, Wadi Simayh
D1 Sun: Pillow basalts, Wadi al Jizzi
D1 Sun: Boudinage and mullions contact Semail to Hawasina, Wadi al Dil
D2 Mon: Crust-mantle contact / Moho and ore deposits, Wadi Abiyad
D2 Mon: Nakhl Fort and oasis, Hawasina and ophiolithe nappes, Wadi Hedeck (tbc)
D2 Mon: Snowball earth, slate, Wadi Mistal (tbc)
D2 Mon: Unconformity, Wadi Bani Kharus
D2 Mon: Snowball earth, Wadi Haslan
D3 Tue: Crossing alpine Jabal Akdhar mountains via Wadi Bani Awf
D3 Tue: Carbonate rocks around Jebel Shams, View into Wadi Nakhar
D4 Wedn: Turbidites near the beehivee tombs and Jebel Misht near Al Ayn
D4 Wedn: Faults and sealing in carbonates Wadi Nakhar via Al Hamra (Coleman's rock) and Wadi Ghul oasis
D5 Thu: Diagenesis of peridotites, Barzman
D5 Thu: Oil fields and salt dome Qarat Kibrit
D6 Fri: Rocks around Wadi Bani Khalid
D7 Sat: Crossing Wahiba Sands deserts, dunes, eolianites, from Bidiyah to the Indian ocean
D8 Sun: recent salt lakes near Misfirah island
D8 Sun: Radiolarite and Mn ores near Ras al Hadd
D8 Sun: Turtle reserve Sur, Ras al Jinz
D9 Mon: Sheath folds, eclogites Wadi al Mayh and As Sifah
D9 Mon: Eocene- triassic ophiolithe unconformity, Wadi Kabir
D10 Tue: recent carbonate reef (tbc)
D10 Tue: Groundwater salination of oases
D10 Tue 9/10/: Muttrah suq
and many more
the final program was as follows:
D0 Sat: overnight in hotel in Seeb
D1 Sun - ocean floor: MOR and associated ore deposits; mullions and folds; Wadi Chris; set up camp near Murri anticline
D2 Mon - alpine deformation: climb Murri anticline carbonates totop according to fitness with 2 early return groups, starting early daylight; visit Nakhl fort / Nakhl hot spring; set up camp Wadi Abiyad
D3 Tue - across stratigraphy: crustal and mantle rocks; unconformity; snowball earth; pencil cleavage; cross Jabal Akdhar mountain, set up camp near top of Jabal Akdhar
D4 Wedn - carbonate system & deformation: Al Hamra coleman's rock; stoneage carvings; inside Wadi Nakhar: faults and veins, boudinage, pinch and swell; set up camp top of Jabal shams
D5 Thu - slope-deep sea transition: view into Wadi Nakhar; Bhala fort; Behivee tombs: turbidites, Jabal Misht; set up camp Kibrit salt dome
D6 Fri - alluvial fan system: salt diapirism, rim syncline, carbonate stringer, petroleum systems, alluvial fans; windkanter, lake deposits; star dune; sabkha sedimentary system and trenches; set up camp near Indian Ocean
D7 Sat - eolian system: cross Whahiba sands desert, eolian sedimentary system and trenches, set up camp in desert near Bidiyah
D8 Sun - deep sea system & Batina nappe: dow workshop in Sur; cimberlite; radiolarites; set up camp near Sur (next time near radiolarites)
D9 Mon - metamorphism: mega-sheath folds, sheared clasts, porphyroblasts; eclogite; set up camp near A'Sifah
D10 Tue - Tertiary cover: sediments, structures and view over Muscat; snorkeling reef & turtles; Sultan Quaboos mosque; visit GUtech university; overnight in hotel in Seeb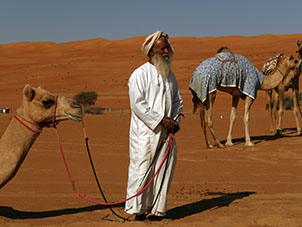 Safety, health
Oman is considered a very safe country, crime rate being very low.
Please ensure that you have your vaccination up to date, your health insurance covering possible expenses.
Please ensure that you have an insurance bringing you back to Germany in case of health issues. Check for example with ADAC Rückholversicherung, DRF membership or others.
Wadis may be wide and flooded quickly, even if it didn't rain. Such flash floods are a result of rain in the mountains, the water expelled through the wadis to the ocean.
Don't hike alone, have enough food and water and leave your route with somebody in case of emergency. Note that some regions are not covered with GSM / mobile phone.
Always have enough bottled drinking water with you.
Detailed information is provided by the German Federal Foreign Office / Auswärtiges Amt Reise- und Sicherheitshinweise

incidents 2018 - the trip went fine and nothing unexpected happened:
three torn tyres, one car temporarily broken, 2hrs all digging our big truck out of the sand
we've seen scorpions, snakes and m-sized turtles

some dirrhoea,

everyone realized quickly that sun protection and some liters of drinking waters per day are essential to feel well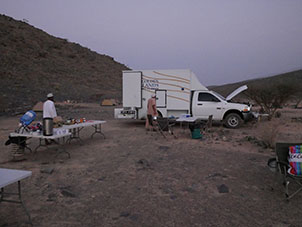 Climate and nature
Temperatures are expected 30°C+ during the days. Take precautions of sun burn and heat stroke.
Driving is offroad and thus may be a bit "shaky".
We will be at sea level at the Gulf of Arabia and the Indian Ocean, and drive up to app 2000m.
Please note that flora and fauna are different. Plants may be poisonous. Poisonous snakes as well as scorpions are well known. Take special care at dawn and night.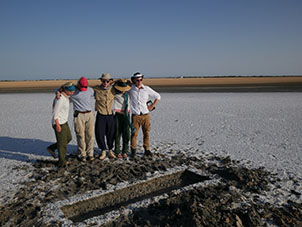 Food
Food will be provided during the trip, but not on the arrival and departure day.
If any provisions and special dietary requirements are needed, please let us know at least two weeks in advance.
Indian food is widely distributed throughout the country, and can frequently found close to petrol stations. Food may be spicy.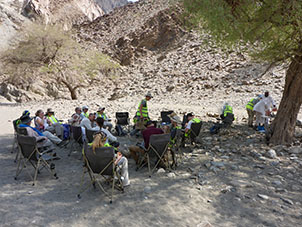 Costs
For students the trip is subsidized. Students should expect to cover flight costs (appr. 500-600€) and local costs (appr. 600-700€).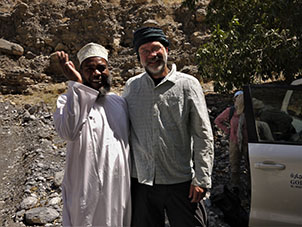 Cultural respect
Please respect the local cultural values. Short trousers, uncovered knees and shoulders show disrespect. Neither take pictures from people without their agreement, nor from local security facilities.
Don't touch or take away rocks from archeological sites, and don't take rocks of fossils from the exposures out of the country.
Do not pollute the water, especially not the the water of the Falaj system, which is the local drinking and irrigation water.
Do not take vegetables or fruits from the oases, and don't walk away from paths in oases.
Take your litter home.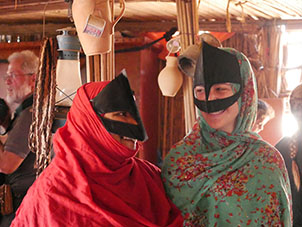 How to join
Students interested to join are requested to put their name and contact details on a list at our secretary. Seats are limited, since we aim to keep costs low by having all seats taken in each 4WD.
In April the final list will be announced latest. Within a given deadline students are then requested to provide the flight booking confirmation and to make the payment for local costs.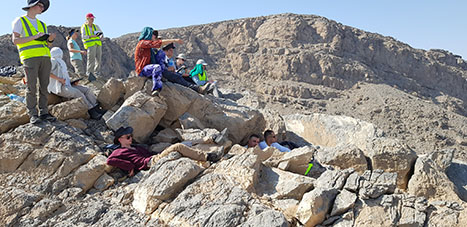 Deliverables
You are requested to take notes and pictures, since it is unlikely that you will visit these places a second time. Together we want to make a movie from teams filming different scenes.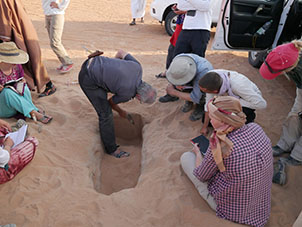 Logistics
Logistics are provided by Golden Highlands

, an experienced Omani owned business guiding international geology field trips to Oman.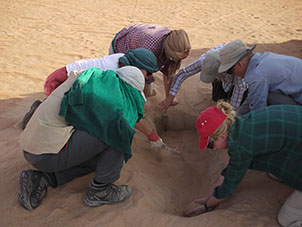 Ausrüstung
You shall bring
stirdy high mountain boots, since the terrain is alpine
day backpack - for your personal belongings and water
geological KIT-field book, pencil, rubber, ISO Staedler Fineliner or similar
shirt with long sleeves, long trousers - as protection against sun burn
other clothing
sun creme
bath robe
towel etc.
personal hygiene
travel bag*
other stuff
Omani Rial can be changed in Germany when ordering from your local bank, they are usually not available at your bank immediately. In Oman, you may get cash from your credit card, less commonly with your Maestro/Cirrus card at ATMs in Muscat. Please ensure that your Maestro/Cirrus will be accepted by local Omani banks. Banks in Oman are HBSC Oman, Oman Arab Bank, among others
*since we don't hike for several days, please don't bring a rucksack but a travel bag. A bag is easier to pack daily in our 4WD, a rucksack is inhandy.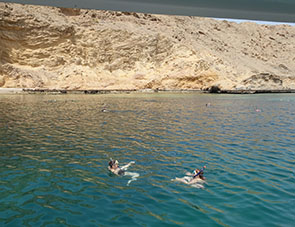 Supervision
The trip will be supervised by Christoph Hilgers and Agnes Kontny. Eventually, additional preofessionals will join us.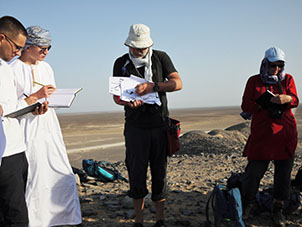 Personal Note
Having lived in the country with my family for a while, it really is a pleasing country with stunning scenery and very polite people. During that time and frequent trip to the mountains and desert, we just had one scorpion in our house and I heard a snakes hiss in a wadi at night once. In our home we had one gecko as guest, who took care of insects.
Oman is called the geologist's paradise, which is well reflected by many trip of hobby geologists and professionals to the region.
At night you will see the milky way and more stars than ever. However, an old French desert geologist and good friend of mine told me to always sleep in a tent at night, since we are unaware of pestering insects while you sleep.